Rated 0 out of five stars
0 total reviews
Tropical Oatmeal
These fruity and flavorful overnight oats are great to eat first thing in the morning.
Total Time: 43 minutes
Prep: 5 minutes
Cook: 8 minutes (30 minutes standing time)
Servings: 12 servings
Ingredients
Water

12 cups

QUAKER® KETTLE HEARTY® Oats

6 cups

Salt

1 tsp

Shredded sweetened coconut

2/3 cup

Mixed dried mango, papaya & pineapple

1 cup diced (1/4")

Coarsely chopped, lightly salted macadamia nuts

3/4 cup

Packed light brown sugar

1/2 cup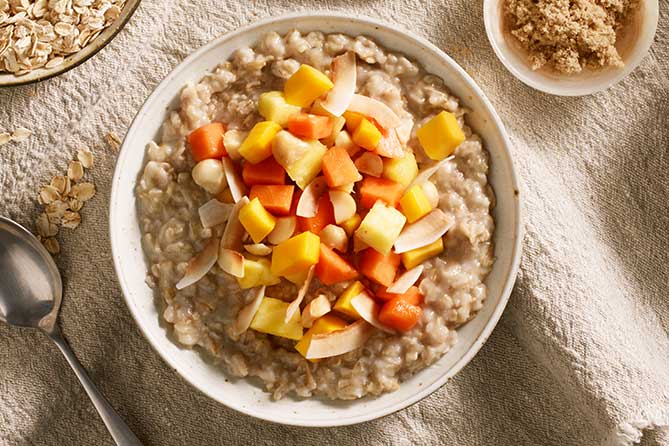 Directions
In heavy large saucepan, bring water and salt to a brisk boil. Stir in oats, return to boil. Reduce heat, simmer 8 minutes, stirring occasionally. Stir in dried fruit, coconut, and brown sugar. Let stand covered or transfer to steam table pan cover. Let stand 30 minutes or until all liquid is absorbed.
Hold on steam table on medium (#5 setting) up to 3 hours. Stir before serving, 1 cup portions. Top each serving with 1 tablespoon macadamia nuts.
There's no way to spin this. We're sorry for taking so long!