Rated 0 out of five stars
0 total reviews
Super Berry Almond Crunch Bowl
Amp up this QUAKER® oatmeal bowl with berries and almonds for a tasty mix of sweet and crunch.
Total Time: 43 minutes
Prep: 5 minutes
Cook: 8 minutes (30 minutes standing time)
Servings: 12 servings
Ingredients
Salt

1 tsp

QUAKER® KETTLE HEARTY® Oats

6 cups

Water

12 cups

Blueberries

2 cups

Blackberries

2 cups

Raspberries

2 cups

Brown sugar

1/2 cup

Ground flax seed

1/2 cup

Toasted slivered almonds

3/4 cup

Toasted coconut flakes

3/4 cup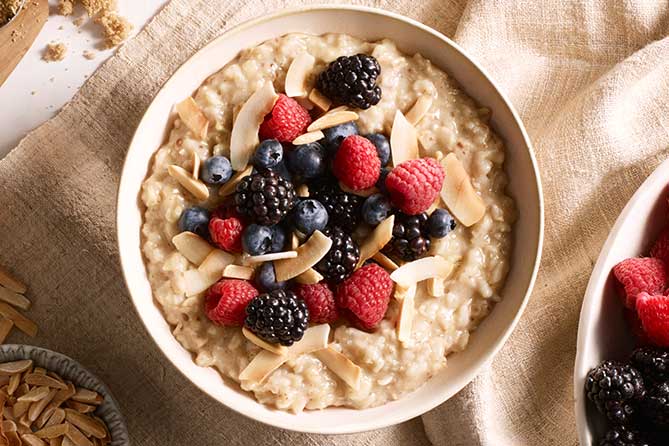 Directions
In a heavy large saucepan, bring water and salt to a brisk boil. Stir in oats, return to boil. Reduce heat, simmer 8 minutes, stirring occasionally. Let stand covered or transfer to steam table pan cover. Let stand 30 minutes.
Stir berries, flax seed, brown sugar, and almonds into the oatmeal. Top each serving with 1 tablespoon toasted coconut.
There's no way to spin this. We're sorry for taking so long!