Get to know Gen Z (or Zoomers) a little better with a closer look at what makes them unique—and more likely to make a purchase.
W hile a higher percentage of millennials tend to visit restaurants once a week (76%), Gen Z isn't far behind (68%). Together, these generations represent the highest patronage in foodservice, including away-from-home offerings from grocery and c-store channels.1 See how to draw them in with beverage and menu items that appeal to their preferences.
Make It Personal
Having grown up alongside technology with nothing but options at their fingertips, Gen Z has a different take on the concept of personalization than other generations. Zoomers expect personalized experiences in all aspects of their lives because they are used to being in control of their choices. By anticipating what they want (or allowing them the flexibility to create what they want), you can draw in more of the Gen Z crowd—77% wish they had more opportunities to customize products to fit their lifestyle and 56% say that products/services that can anticipate their needs is extremely important.2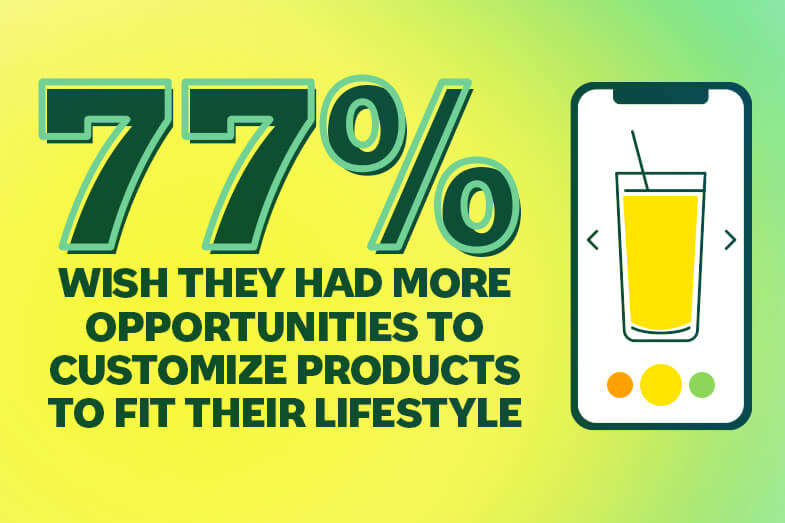 Key considerations:
Wellbeing: Gen Z wrestles between making strides in larger issues and taking care of their own mental wellbeing—80% believe managing stress levels is extremely important to overall wellbeing, but only 52% believe they're doing so effectively.3
Flavor: Just behind Millennials, 47% of Gen Z consumers enjoy trying different foods. Younger generations are more likely to try global foods and beverages and make that part of their consideration in where to eat/order.1
Affinity: Zoomers enjoy a wide range of beverages when dining out. Their preferences tend to lead in multiple categories including soft drinks, lemonade, milkshakes, smoothies, and alcoholic beverages (Zoomers 21+).1
Keep it Real
Zoomers are the generational group most driven by menu transparency. In fact, 45% of Gen Z says they are more likely to visit a restaurant that shares what's in its menu items.1 Additionally, 58% of Gen Z says authenticity is "very important" among brands.4 To fully support a brand, they must feel comfortable with the company's values. Following authenticity, health and environmental concerns are high on the list, driving 42% of Gen Z purchase decisions.4 This category encompasses recyclable products and packaging, no artificial ingredients, non-GMO and natural callouts. Ultimately, being genuine counts for a lot. Let your own brand shine through and be open about what you're serving and why. Highlighting functional benefits or locally sourced ingredients is a plus.
Serve with Purpose
While Gen Z over-indexes in the category of alcohol beverages, the same is true in the category of non-alcoholic beverages. Compared to 2022, 38% of Zoomers are drinking more non-alcoholic beverages with other generations coming in at 25% or lower.4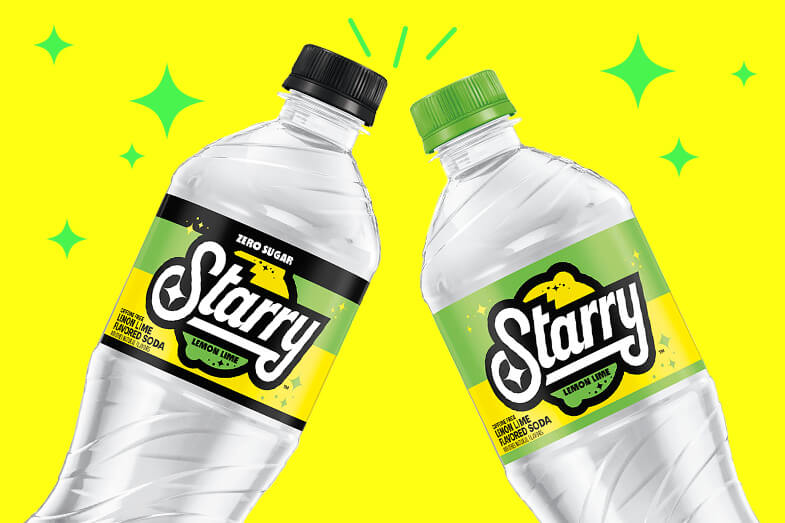 Younger Gen Z consumers have a greater preference for classic beverages like soft drinks and lemonade as compared to other generations. With many soft drink options to choose from, a new offering could help add excitement in the category. Starry™ Lemon Lime Flavored Soda, created for and alongside Gen Z, is an option that satisfies both the classic beverage preference as well as the desire to try a new flavor twist. In a recent taste test, 80% of our Gen Z participants agreed that Starry "tastes great!" Featuring refreshing lemon-lime flavor with a bite, the Starry brand was made to speak to a younger generation as well as offer a mood lift and momentary escape from daily stressors.
Sparkling waters like bubly™ and caffeinated bubly™ bounce make it easy to speak to unique tastes with a rainbow of fruit flavor options. Made with natural flavors and no calories or sweeteners, the bubly brand helps satisfy the desire for new, adventurous tastes or becomes the starting point of a signature mocktail recipe.
With the idea of supporting Gen Zers who are looking for greater functional benefits in their beverages are energy-rich choices that also boast fun, bold flavors. Celsius®, created for those with active lifestyles, contains vitamins and metabolism boosters without artificial preservatives or flavors and without aspartame or high fructose corn syrup. Alternatively, MTN DEW Energy is enhanced to deliver a mental boost with citicoline and caffeine, plus immune support and no added sugar.
Keep new flavors flowing with inspiration. Consider cocktail recipes that also become mocktail recipes with just a couple of ingredient swaps or sparkling beverage-based bubly recipes that allow customers to choose their flavor.
Sources:
1Technomic Generations CTR, 2022
2Kantar U.S. MONITOR 2022
3Kantar U.S. MONITOR 2022; 2021 Q3
4Drinkripples.com Blog, 5 Stats Behind the Gen Z Drink Trend That's not Going Away